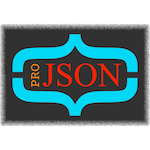 Home - GUI - App Store Link
FAQ
Q: Why is proJSON no longer free?
Answer: proJSON was only free in the version 1.0 & 1.1. Later versions are priced in accordance with business needs, which in general will mean higher prices for more features.
Q: Can I submit a feature request or bug report?
Answer: Yes, please do. Use the email address info@balancingrock.nl preferably with 'proJSON' in the title.
Q: Which features can be expected in the near future?
Answer: For legal reasons we cannot promise anything. However we want to create the best possible JSON platform out there and have a long roadmap with many features planned.
The next version may be able to download JSON files from external sources.
Q: When will the next version be released?
Answer: We cannot give a timeline for the next feature release.
Fixes for high priority bugs will be released asap after the bug report. Lower priority bugs will be collected into a single bugfix release.
Q: Will proJSON send any data to Balancingrock or another party?
Answer: No. We strongly believe in privacy and will not send any data to Balancingrock or other parties.