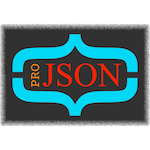 Overview
proJSON v1.0 is a full spectrum JSON editor that is intended to grow into a suite of JSON tools.
It supports the entire JSON specification as well as JSON fragments and multiple top level JSON objects (or fragments) in a single file.
It goes a step beyond ordinary JSON editors by associating a format specification with the JSON files that allow the choice of specific font types and/or colors for specific JSON items.
Features
Supports the JSON specification as defined in ECMA-404 (See http://json.org)

Duplicate object naming
Mixed types in an array
Fully reversible decoding/encoding (i.e. when reading and writing a JSON file the contents is not changed)

Hierarchical font and color specification (kept in an associated file)
Outline and free-flow editing
JSON fragments
Multiple JSON top level objects (or fragments) per file